Inhabit
Global by design
A D.C. condo's culture-mixing renewal, with owner and architect half a world apart

Gallery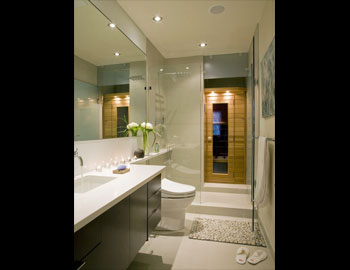 By Nancy McKeon
Special to The Washington Post
Saturday, October 24, 2009
Adams Morgan condo owner Meral Karasulu was a renovation veteran. Architect Andreas Charalambous of Washington's Forma Design was professionally seasoned. So the two decided to attempt the construction equivalent of a high-wire act: They would gut Karasulu's two-story, three-bedroom apartment near Meridian Hill Park while she was finishing the last six months of a two-year assignment to Korea.
Just about everyone knows what a complicated dance renovations are, even when client, designers and contractors are all in the same city. There are design plans to formulate, finish materials to choose, electricians, carpenters, drywallers and perhaps stonemasons to schedule and coordinate. For the pros, renovations require daily attention. For Karasulu and her architect, a lot of these details were worked out by e-mail and phone, with Karasulu in Seoul and Charalambous in Washington. That was made possible by the strong working relationship the two had forged while renovating a previous apartment.
Karasulu's Korea posting was not a one-time thing. The 43-year-old economist for the International Monetary Fund had been traveling there for nine years doing economic surveys. All the while, her appreciation of the Asian sense of interior space was growing, to the point where she wanted to have the serenity of "Zen minimalism" in her own home back in Washington.
Looking around the combined living and dining areas on a recent afternoon, Karasulu seemed to revel in the open space. The south wall of the living room is marked by French doors that give onto a long balcony. In the distance, the Washington Monument peeks up over the rooftops. "I don't like confined spaces," she said. "This is great space -- why block it?"
The Turkish-born Karasulu listed the walls that she and Charalambous took down, including walls and columns that boxed in the dining room, thereby cutting off the kitchen from the southern light. In reassembling the main floor, the two created a kind of utility cube starting near the front door. It contains closets and a powder room and serves as one wall of the hyper-efficient galley kitchen off to the right.
Upstairs, they removed a wall of shallow closets that led to the master bedroom. That change opened up the hallway and made the whole second floor feel more airy. (Remaining hall closets house a washer and dryer, linens and utilities.) The wall between the two south-facing bedrooms was also removed, making one large guest room and painting studio for Karasulu.
Throughout the apartment, doorways soar all the way to the ceiling, making the spaces seem at once more open and more connected to one another.
"Everything flows -- the air, the energy," Karasulu said.
From their earlier project together, Charalambous knew Karasulu to be a prodigious researcher intensely interested in design details. "We can have conversations about [design] things," he said. "She was very specific about what she wanted." Charalambous, London-born of Greek-Cypriot parents, even visited Karasulu in Korea and Beijing, where she was able to show him the kinds of spaces and feeling she liked.
The result, he said, was an interior that was "about change, flexibility and surprises."
But what kinds of features did Karasulu want? Things such as the dry-heat infrared sauna she became addicted to in Korea. (She found a Clearlight sauna from California, $3,395 to $4,500 depending on size.) And the extravagantly sleek Arne Jacobsen-designed Vola faucets and shower system in the master bath. A kitchen backsplash of back-painted glass, which she first saw in a corporate kitchenette in Korea. And the hidden LED lights that let the white glass glow purple or green or yellow, according to her mood.
Proof of how aligned in their thinking client and architect were is the fireplace. Both agreed to ditch its old-fashioned mantelpiece in favor of a more modern statement. Now a monumental stacked-stone fireplace surround is the focal point of the living room. Karasulu had just found the stone while Googling one night in Seoul when Charalambous e-mailed her to suggest using the same stone, Sentousai porcelain mosaic from the Japanese company Inax, which he had just used in another project. They procured the stone from the Stone Source showroom in Washington.
Being half a world away during the remodel did have its benefits. Karasulu didn't have to live through the eight months of plumbing and electrical installations (including a whole-house Bose sound system, a "boys' toy" aimed at eventual resale). She never crossed paths with stone workers, carpenters, floor installers or the ironsmith called in to handle the stair railing. But she was hands-on in finding products and balancing priorities.
Her major extravagance: the kitchen outfitted with more than $30,000 worth of appliances and cabinets from Poliform Washington by Sagart Studio.
Karasulu did find some economies, however. The kitchen's LED lights came from Ikea. And, instead of spending $9,000 for a wall of curtains, she tapped Ikea again for gauzy linen that keeps the look light and airy.
Ditto the display shelf on the living room wall made of wenge wood, a striking African hardwood notable for its dark striping. The Ikea shelf coordinates perfectly with the custom-made wenge cabinets that flank the fireplace.
The low-slung red B+B Italia sofa (which balances the burnt-orange accent wall it faces) came from her last apartment -- and she purchased it in Milan, where it was about 35 percent cheaper, even after factoring in international freight charges. That nod to the budget allowed her to add the latest Zen touch to her living room, felted-wool "boulder" seats that resemble river stones found in Japanese gardens ($298 to $595 each at http://vivaterra.com).
So, Italian sofa and kitchen cabinets, African wood, Korean sauna, Greek-Cypriot architect, Asian influences. What about Karasulu's roots? Standing in her sleek new kitchen, the former Istanbul university professor looked around, then grinned: "My cooking's Turkish!"