Clearlight® Wellness Innovations
Clearlight® Infrared Saunas were designed with your business in mind. With hundreds of commercial installations worldwide, the team at Clearlight® Wellness Innovations is ready to serve as your concierge for all your business needs when it comes to designing your wellness space. 
A dedicated Commercial Product Specialist will be available to guide you through the purchasing process from first contact, education, assisting with placing your order, and even a training session once you start using your sauna.

Educational and marketing material will be provided to support your business in creating revenue with our products.

Commercial service department dedicated to keeping your sauna up and running.

Special pricing, multiple purchase discounts, bulk saline capsules for halotherapy, and exclusive offers are available for our commercial customers.  

5 Year warranty on the entire sauna.

You become part of our referral program: 

We send customers to your location if they want to try a sauna session, driving additional revenue to your business. 

You'll earn additional affiliate revenue if you send interested Clearlight customers our way. Our affiliate program earns you commission when they make a purchase (details in the agreement). We do all the work and you earn revenue!
Commercial Wellness Innovation Products
All of our saunas models are commercially tested and certified:
Certified for continuous all day operation

Commercial quality construction

Exceptional Customer Service

Low maintenance

Low labor cost

Promotional support for fast ROI
Please fill out the form below and a Wellness Solutions specialist will contact you promptly. Or give us a call at 800.798.1779 x3000 or email us at commercial@infraredsauna.com. 
keyboard_arrow_leftPrevious
Nextkeyboard_arrow_right
CLEARLIGHT SANCTUARY PROFESSIONAL FULL SPECTRUM SAUNAS
Clearlight Sanctuary Professional Full Spectrum saunas are made from grade "A"  Eco-Certified Mahogany and come with our high quality Bluetooth/MP3 audio system and our 5-year commercial warranty. The state of the art digital sauna control works in concert with our sleek smartphone app to give you the ability to control your sauna remotely.
Our Sanctuary Professional saunas are designed to withstand the high usage of a commercial locations with beauty and elegance:
Removable solid wood floors for easy cleaning and replacement

700 Watt full spectrum heaters versus 500 Watt heaters

Double chromotherapy on the larger models (3 person or larger)

Additional door hinge for stability

Metal door threshold

Solid wood benches/reinforced removable bench

T-Max compatible

Portable Therapies for additional revenue and enhanced sauna experience

Ergonomic Backrest
All Clearlight models can accommodate a portable backrest for added support during a sauna session. Designed by our founder Dr. Raleigh Duncan, a Chiropractic Physician, our backrest allows you to relax even deeper into your experience.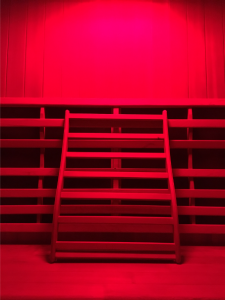 Bench Cushion
Add an extra layer of comfort to your sauna session with our bench cushions. This 2" thick, waterproof and mold resistant cushion is custom made to fit the bench of your sauna. Just wipe down the cushion with a damp cloth between sessions.

No VOC Interior Wood Varnish
Our Clearlight cleaner and varnish are safe and designed specifically for the sauna. Makes cleaning easier and helps control sweat marks.

UVC/UVA Disinfectant Wand
The portable and easy to use Clearlight UVC/UVA Disinfecting Wand comes with a powerful UVC and UVA LEDs and eliminates up to 99.9% harmful bacteria and viruses.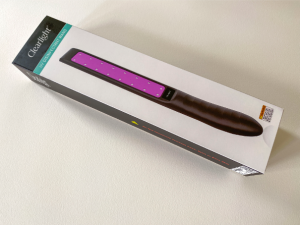 Moisture Absorbing Bench Pad
The non-slip, highly absorbent and durable underpad offers a layer of protection between the towel and the wood. It can be used on the bench or floor and lasts up to 250 washes.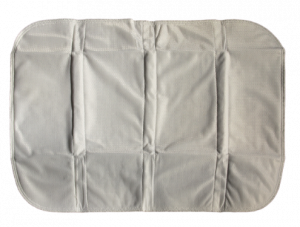 Lounge Chair (Sanctuary Y or Retreat)
Find complete comfort and stillness with a custom designed ergonomic lounge chair and footrest. Our lounge chair comes complete with a moveable cushion and breathable mesh liner.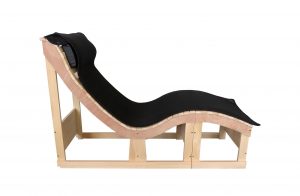 CLEARLIGHT CURVE FAR INFRARED SAUNA DOME & AMETHYST INFRARED PEMF MAT
CLEARLIGHT RED LIGHT THERAPY
Red Light Therapy combines powerful red light (660nm) and near infrared (850nm) wavelengths to offer you the best therapy available today.
Breathe easier with the Clearlight® HALO ONE Halotherapy.  Halotherapy, also known as Salt Therapy, is a holistic approach that mimics the microclimate of a salt cave.
AROMA ONE® AROMATHERAPY DIFFUSER
Add the Clearlight® Aroma One® Aromatherapy Diffuser to your sauna, home or office. The Aroma One® Aromatherapy Diffuser uses ultrasonic, high frequency technology to convert water and essential oil into a fine mist for better health and wellness.
Commercial Warranty 
Your Clearlight sauna comes with another exclusive – the Clearlight 5 year Commercial Warranty.  Few other companies can offer this type of warranty because no one builds saunas like Clearlight. In the rare event that you might have an issue with your sauna, our commercial warranty covers the entire sauna – heaters, controls, electrical and wood… even the included audio system. You will never have to worry if anything should go wrong with your sauna.