FULL SPECTRUM INFRARED SAUNAS
Clearlight Sanctuary Saunas with True Wave™ Full Spectrum Technology
The Clearlight Sanctuary Full Spectrum saunas offer advanced near, mid and far infrared technologies. Our robust True Wave™ Full Spectrum heating system provides all wavelengths 100% of the time to optimize your sauna session. The Sanctuary sauna line is available in 2 Eco-Certified wood choices.
Please see our available full spectrum Mahogany or Basswood sauna models below.
Full Spectrum Sauna Technology
In all of our Clearlight Sanctuary Saunas, you are surrounded by infrared heat.  Our True Wave™ far infrared heaters are located on the back and side walls, under the bench, next to your calves and in the floor.  Our True Wave™ full spectrum heaters are located on the front wall.  All of our infrared heating technology are low EMF and low ELF making Clearlight Saunas the safest available.
Clearlight Sanctuary Features: Wood, Comfort & Lighting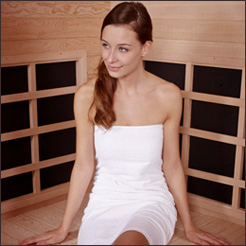 Our full spectrum saunas are made from 2 Eco-Certified wood choices:
Mahogany Exterior/Interior
Basswood Exterior/Interior Our Sanctuary models utilize glass on the front and ceiling with a contemporary design crafted for both style and comfort.
Our saunas are ergonomically designed to make the most of any sauna experience. All Sanctuary models include a built-in ergonomic backrest and reversible ergonomic/flat bench.  You have complete control over customizing your sauna session with the built-in keypad or the Clearlight Connect Android and iOS app. Preset your sauna to turn on up to 36 hours in advance and connect your favorite entertainment with our Bluetooth / MP3 connection and Nakamichi stereo speakers.
All of our Sanctuary Saunas include our medical grade chromotherapy lighting. The LED color light therapy is used to help restore imbalance in the body, alleviate pain and swelling, decrease inflammation, and contribute to overall wellness, particularly when following a medical or surgical procedure. Each of the 96 LED lights contributes to a different aspect of wellness
Our Clearlight Sanctuary Full Spectrum Infrared Saunas are available in six different models with seating up to four people. Along with modern design and state of the art heating technology, your Clearlight Sanctuary Sauna is backed by our Limited Lifetime Warranty.