29 Aug, 2019
/
Clearlight Infrared Saunas
/
No Comments
TIPS FOR ATHLETE RECOVERY & INTERVIEW WITH SKIER MO LEBEL
Being an athlete requires skill and a strong focus on keeping your body in top shape. Unfortunately, even the most cautious can face injury. Amateur and professional athletes alike are prone to injury, and having the right process for recovery is important for staying in top shape and getting back into action. Read below for an interview with skier Mo Lebel on her inspirational recovery journey. Additionally, find athlete recovery tips on what tools to use and which exercises to try for injury prevention and reduction to stay safe and healthy!

Interview with Mo Lebel & Her Athlete Recovery Experience
We have had the pleasure of speaking with 2018 U.S. National Downhill Champion Mo Lebel on her experience with the athlete recovery process. 21-year old Maureen Lebel, also known as Mo, has had an impressive ski career. Essentially raised on the slopes, Mo has proved to have skiing in her blood. Today, she is now a member of the U.S. National Training Group (NTG) and was crowned the 2018 U.S. National Champion in downhill. Suffering an injury in early 2018 obviously hasn't held her back from achieving big dreams.
Read below for Mo's take on athlete injury and how she found success in recovery:
How long have you been skiing? Were you involved in athletics before then?
My whole life! I started skiing before I was two years old and have never looked back!
What are your biggest successes and motivators in your sport?
My biggest successes would be representing the United States at the Junior World Championships and  becoming the 2018 U.S National Downhill Champion.
My motivation is my love for the sport. Whether it's ski racing or just skiing, I love being out there on the snow. In a lot of ways, ski racing is addicting and everyday that makes me want to be better and better. I meet people who will be in my life forever, go places I could only dream of going, and have learned life lessons that carry me through my day to day life. It's pretty cool how ski racing has shaped me!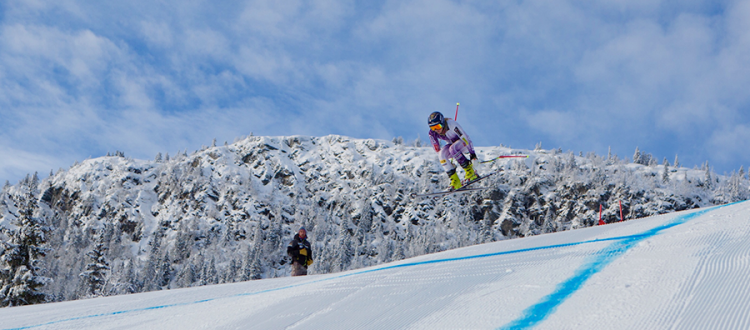 In all of your time in athletics, is injury a common occurrence?
Generally, yes. Ski racing is a high risk sport and injury is not uncommon among a lot of ski racers. Almost every ski race I compete in, an athlete will injure themselves. Luckily, I've only had two season-ending injuries (both within the same year). Us ski racers work tremendously hard in the gym to become as strong as possible to prevent these injuries.
What are the biggest setbacks that come with being an injured athlete?
The inability to continue to fulfill your passion!
The setback is not only personal, your support crew feels it too. This can be added stress, but also added motivation. So much hard work goes into any sport and when all of a sudden it's ripped away from an athlete, it can feel as if  your whole life is put on hold. In reality it's just a bump in a very long road. Negativity, sadness, and anger are pretty common. What really matters is how fast an athlete can put those thoughts behind them and move forward in a positive way. The biggest setback for any athlete is the limitations of their own mindset. It's all a learning proces,s and developing resilience is the lesson we learn.
How do you work through your injuries, and why is recovery process important to you?
I have found that staying as positive as I possibly can has helped me heal the fastest and get through my injuries. When I get down on myself I lose sight of what I'm working towards and what I have already accomplished in my career. Personally, sticking to a routine is mandatory. I work through my injuries by establishing a recovery process that includes eating right, exercising as much as possible without pushing it too hard (which is very difficult as a ski racer), spending as much time in my infrared sauna as possible, getting LOTS of sleep and remembering to never take myself too seriously!

How has using infrared technology helped in your recovery process?
I am so impressed with my infrared sauna! It has helped my muscles recover exceptionally fast. Currently, I have a lot of muscle strength to gain back on one leg and spending time in my sauna allows me to strengthen my leg everyday versus every other day. Rarely do I need a "recovery day". My blood circulation has improved tremendously and I haven't had swelling in my broken leg for about two months. I broke it three and a half months ago.
I can tell my healing process has been expedited. My infrared sauna has also been great in lowering my stress and mental fatigue during my recovery process. I believe that the infrared sauna heals on all levels, from incision sights and scars, to deep tissue and bone and the benefit of mental stress reduction. It is a fascinating  recovery tool. I can foresee this technology becoming a standard for recovery and maintenance for all.
Do you have any advice for athletes currently going through recovery?
To any recovering athlete, consider finding access to an infrared sauna or investing in one. My recovery is moving in such a positive way, so fast. I can't imagine this process without infrared technology. I am feeling so great physically and psychologically and I know how crucial that is for athletes. The healing progression is noticeably superior with the incorporation of infrared technology.
Never forget the reasons why you're recovering! No matter where you are in life, always bring your best!

Athlete Recovery Equipment
Infrared Sauna
After working out, you're sure to feel sore in the muscles you've worked. During exercise, your muscles are worked harder than they are accustomed to, which causes them to form microscopic tears. These tears cause inflammation and can result in muscle soreness, tightness, cramps, and sensitivity. Your body then heals these tears to make your muscles stronger. Using a sauna enhances the muscle recovery process by increasing blood circulation and carrying oxygen-rich blood to oxygen-depleted muscle. Heat also allows muscles to relax better, thus relieving muscle tension.
Inversion Table
Inversion therapy is a pretty simple concept. It uses gravity to relieve pressure, increase blood flow, and reset important bodily functions – all of which are vital to the recovery process. Triathletes and other athletes with punishing workout schedules have seen incredible improvements in their overall health as a result of inversion therapy. Inversion therapy helps improve joint health, increase core strength, ease stress, and boost circulation.
Recovery Boots
By using recovery boots in your daily workout, you can speed up the recovery process that your body's lymphatic and vascular systems perform naturally over a longer period of time. Pneumatic compression increases blood circulation and helps your body get rid of accumulated waste in your muscles faster and more efficiently than your body normally can. The result is that your muscles heal and recover faster.
Athlete Recovery Tips
One of the most frustrating parts of being an injured athlete is the feeling of being inactive. While you may be tempted to jump right back in to your regular routine once you start to feel better, getting back into fitness after an injury must be done slowly and carefully to prevent delayed healing and avoid any further injury. Before getting started with any intensive actions, do these few things:
Explore different physical therapies to find relief such as compression, inversion, and infrared therapies
Prepare yourself mentally, understand that you won't be performing at your optimal levels
If you suffered a serious injury, consult with your doctor before starting any strenuous activities
Listen to your body and stop or slow down if needed, do not push yourself to unbearable discomfort
Diversify your workouts with cross-training, focusing on non-injured parts of your body to keep moving
Once you are ready to get active, try low-impact athlete recovery exercises to ease you moving in a safe and healthy manner so you can be back to full-form in no time.

Athlete Recovery Exercises
Back Injury Recovery
Properly recovering from a back injury is critical to your spinal health. It ensures you maintain your mobility, posture and muscle strength so you can protect your spine. The key to recovering from a back injury is your core. If you're returning to exercise after an injury to your back, try these core strengthening pelvic tilts and bird dogs.
Shoulder Injury Recovery
Shoulder injuries such as bursitis or tendonitis can be chronic and take a long time to heal. They can cause severe pain and impact your quality of life, making it difficult to perform movements such as reaching, pulling or pushing. Once you've been cleared to begin using it again, shoulder injury rehab is the next step. You can rehabilitate and strengthen your shoulder muscles with the pendulum and crossover arm stretches.
Hamstring Injury Recovery
Hamstring strains can be incredibly painful and debilitating. Like shoulder injuries, if a hamstring injury isn't properly rehabilitated, it can become a chronic or recurring problem. To properly rehabilitate your hamstring, it's important to find ways to continue to use it without straining it even more. To start your rehabilitation, try single-leg bridges and hamstring curls.
Groin Injury Recovery
Groin injuries can be caused by pulled or strained groin muscles (adductors). These injuries typically affect athletes and can recur if not properly treated. After resting and icing a groin injury, you may decide to return to physical activity with some groin injury rehab exercises such as the adductor squeeze and the side-lying leg lifts with crossover.
Knee Injury Recovery
Knee injuries are very common as it's one of the most used joints in the body—and the most susceptible to wear and tear. Initially following a knee injury, you'll want to work on getting your range of motion back, and it's advisable to work with a physiotherapist for this. To help rehabilitate, try straight leg raises and step-ups.
Suffering from an injury as an athlete may feel restrictive, but with patience and good recovery practices, you are sure to set yourself up for a successful healing period and prevent further injury. As Mo Lebel proves, even major injuries are merely road bumps, and they don't have to require a full-stop. Follow these athlete recovery tips to get back on track and reach your goals!